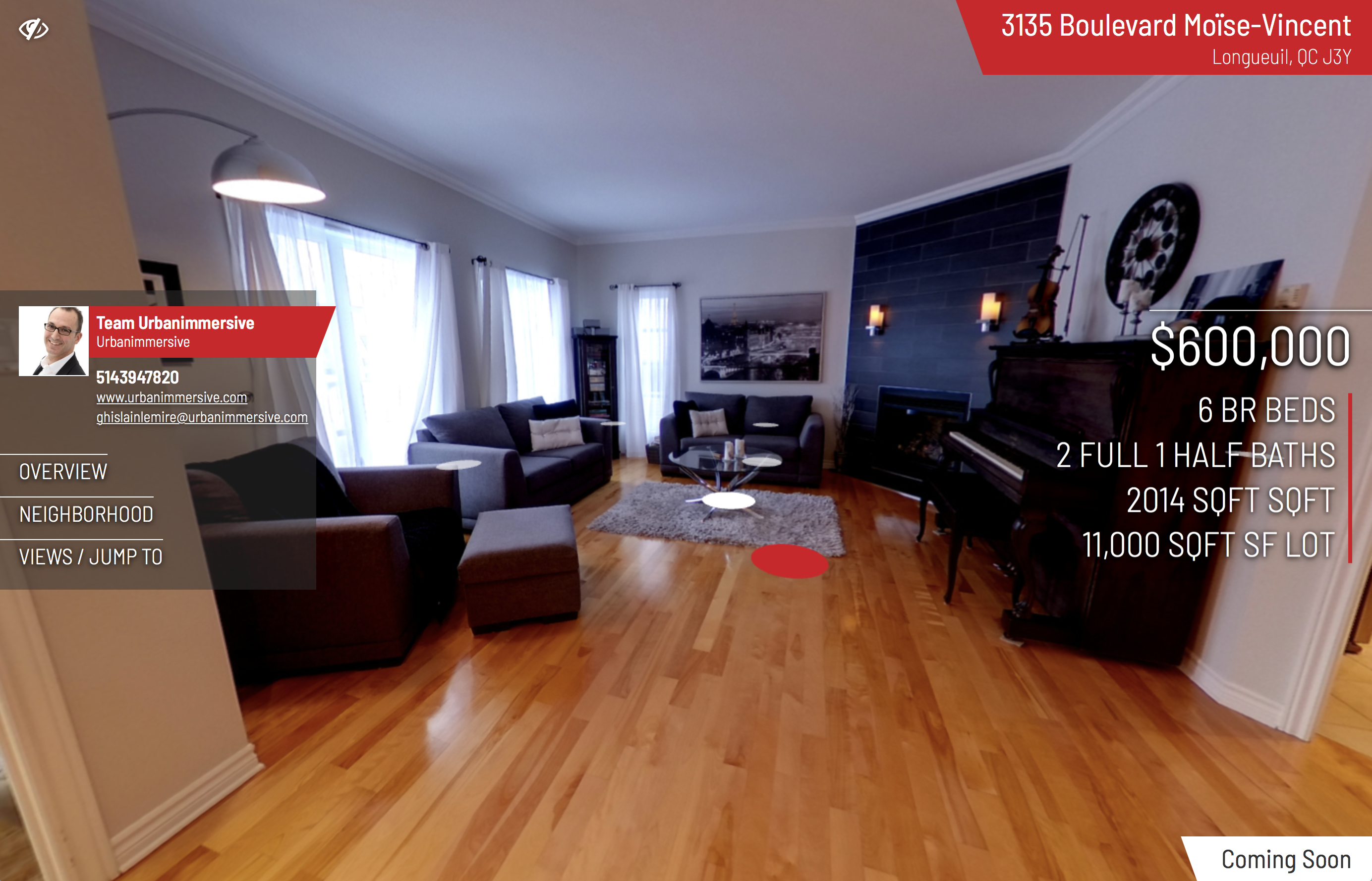 Date Online: 2020-03-23
Use Our New Tourbuzz 3D Tour Creator (BETA Version) Built For The Ricoh Theta Z1 - FREE for a limited time!
Due to the recent increase in demand for immersive 3D tours - prompted by the COVID-19 social distancing recommendations made by public health safety organizations across North America, Urbanimmersive is offering free access to the 'BETA Version' of its new Tourbuzz 3D Tour creator built for Ricoh Theta Z1.
What Are Tourbuzz 3D Tours?
Tourbuzz 3D Tours are immersive virtual tours emulating 3D environments using spherical images. The 3D tours are created directly using the Tourbuzz single property website platform, and images are produced with Ricoh Theta Z1 camera.
How Long Will The BETA Version Be Free?
Our BETA versions are usually reserved for small test groups of photographers. In an effort to support our clients businesses during this challenging time, we are offering ALL Tourbuzz users access to the BETA version for FREE - until we complete the integration of all features and improvements for this product. The extra features should be integrated within the next couple of weeks, and include the addition of features such as 3D hotspots, floor plan creation, VR, and much more.
Where Can I See The New 3D Tour Creator Tool In Tourbuzz?
A new TAB called « Immersive 3D Tour » will be activated in your Tourbuzz account once you are certified to create 3D tours. To get certified, you'll need to attend one of our free training webinars where we'll provide guidance on shooting techniques and camera settings, helping you to obtain the best 3D Tour results.

Which 360 Camera Can I Use?
We are recommending the use of the Ricoh Theta Z1. If you are using a different 360 camera, please contact our support team to verify its compatibility.
How Do I Shoot A 3D Tour?
Shooting instructions are required to ensure that the visual content recognition and machine learning automated post-production processes work seamlessly. We will be hosting free webinars to discuss all of the specifics regarding our 3D Tours. Please click here to be taken to the webinar sign-up page.
Can I Use 3D Tours As A Website (Unique URL)?
Yes. We have developed single property website designs specifically tailored to our 3D Tours. We are calling these designs: 3D Pocket Website™. Each 3D tour includes the choice of a 3D Pocket Website™ design. We call them 3D Pocket Websites™ because they can be downloaded and run offline, they make a great souvenir of the home for home buyers and sellers, and they're an excellent business promotional handout for the agent to their client.
Can I Embed The 3D Tour In Other Third-Party Websites?
No. You can create 3D tours using our technology and integrate them in our traditional Tourbuzz single property website designs, but at this time we're not providing a tool to embed them in other third-party websites.
How Much Time Does It Take For The Post-Production Process Of A 3D Tour?
Excluding the cloud-based HDR processing time (which varies based on the number of exposures per image you want to use), processing a tour will take between 5 to 10 minutes. The closer photographers follow the shooting instructions, the shorter the post-production processing time. It also depends on the number of processing jobs sent to our servers at the same time. At peak volume time, for example at the end of the day, processing time can take a little longer.
Is There Any Further Post-Production Work For Photographers?
Yes and No.
Our automated post-production assistance algorithm utilizes visual content recognition and machine learning image classification technology to recreate the camera path used by the photographer during the photo shoot. While it gets it right most of the time, our algorithm will deliver bad panoramic alignments, particularly in new homes without furniture, when photos are too close to objects, and in low-light environments when there is too much distance between panoramic and/or when the visual content of a scene is not overlapping enough with other scenes. Therefore, each 3D tour needs to be reviewed and fine-tuned before being published. You can save money and fine-tune the 3D tour by yourself or you can use our turnkey service to have our team do it for you. We are charging 1 credit per 5 panoramics.
How Many 3D Pocket Website™ Designs Are Available For 3D Tours?
We currently provide 2 designs/templates that can be fully customized like all other Tourbuzz single property website designs. We will be adding additional designs on a regular basis. We will also be adding new categories of templates for local businesses like restaurants, hotels, dentists, spa, etc, enabling you to reach new opportunities of monetizing your expertise.
How Can I Download A 3D Pocket Website™?
To get the link to download a 3D Tour with its Pocket Website™ design, clients need to purchase the offline 3D player license first. The price of the license is calculated based on the number of panoramas included in the 3D tour. We refund the photographer 50% of the sale in Tourbuzz credits. For example, if the 3D Tour contains 30 panoramas, the price will be $30 to download it for the agent. You will get 15 credits back in your account that you can use to buy standard tours, photo delivery and/or HDR services. You can, of course, opt-out of the download option of your 3D Pocket Website™.
Can I Take Measurements From The 3D Tour?
Yes. You will need to make sure your 3D tour is accurately scaled / life-sized, and that you have calibrated your camera as per the shooting instructions. The precision will be around ±2%.
Can I Create A Floor Plan With A 3D Tour?
Soon. We are working on adding tools that will enable the creation of schematic floor plans to be imported (in .svg files) to specialized floor plan software. We will also provide turnkey floor plan solutions. Prices are on our website pricing page.
Can I Add Hotspots in A 3D Tour?
Soon. We will supply the tools needed to add 3D hotspots that we called UiTags. You will be able to add images, animated gifs, URL, video, sound and text. There is no cost to add a UiTag.
Join our next webinar and click here to get more information about our 3D Tours and 3D Pocket Websites™